NEW YORK, 10 May 2022 – The BTG Pactual Timberland Investment Group (TIG) has won Agri Investor's inaugural award for Fund Manager of the Year for the Americas (2021).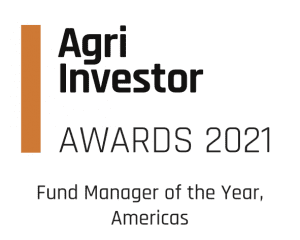 The award acknowledged the initiative that was announced last year for Conservation International to serve as impact adviser for TIG's new $1 billion reforestation strategy in Latin America; the collaboration with The Nature Conservancy to pursue climate action and conservation on more than $850 million of timberland assets in the U.S.; the acquisition of two timberland funds from Olympic Resource Management; and the launch of Vista Hermosa Inversiones Forestales, a new company focused on sustainable management of timberland assets in Chile, as part of a consortium that also includes British Columbia Investment Management Corporation (BCI) and APG.
Gerrity Lansing, head of TIG, said: "This is a wonderful recognition of our amazing team at TIG, as well as our investors, and the many partners working with us to scale up investments that significantly enhance the climate, environmental and community benefits of working forests, while seeking to provide financial returns."

Awards may not be representative of any one client's experience and are not indicative of the future performance of the BTG Pactual Timberland Investment Group, LLC or BTG Pactual.